Two Perspectives on an Architecture without Architects
Lisi Zeininger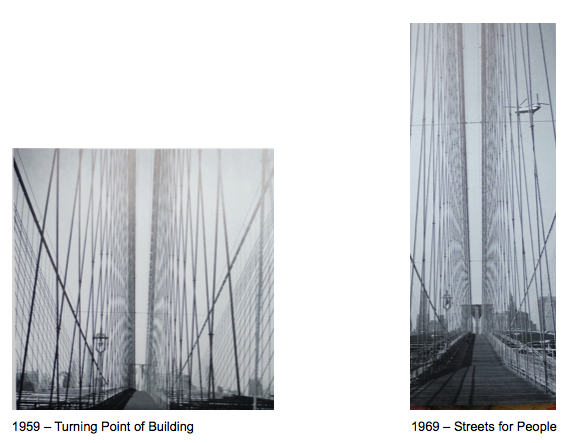 The idea of an architecture without architects is closely interwoven with the attempt to open up a new perspective on architecture. Industrialization changed the architectural profession drastically and architects had to proof their relevance as designers, next to a new established building industry. Common formal planning principles were replaced by purpose-oriented planning processes and the authorship of the architect as an individual designer was called into question. While some architects even doubted the continued existence of the profession, others sought new ways in theory and practice and critically engaged with the changes of the time.
Two photographs, both framing the Brooklyn Bridge, form the starting point for this thesis. Their analysis provides insight into the search for a new perspective on architecture in the 20th century. On the one hand, the context in which the photographs were published will be analysed and compared, on the other hand, photography itself will be discussed as a medium of architectural theory and design. The aim is to grasp today's architecture in its holistic dimension, beyond aesthetic and technical components and to question the use of images in today's architectural production.
The analysis of two different views on the same building frames the research. In four chapters the two photographs will be studied in various ways: They are explored as documents of their time, focusing on their authors and the context in which they were published. The pictorial motif is investigated as architecture without architects and the different descriptions of the photographs are analysed in the context of the architects' design methods. The findings will be reflected within today's architectural production.