A REPOSITORY OF IDEAS SELECTED DIPLOMA PROJECTS TU WIEN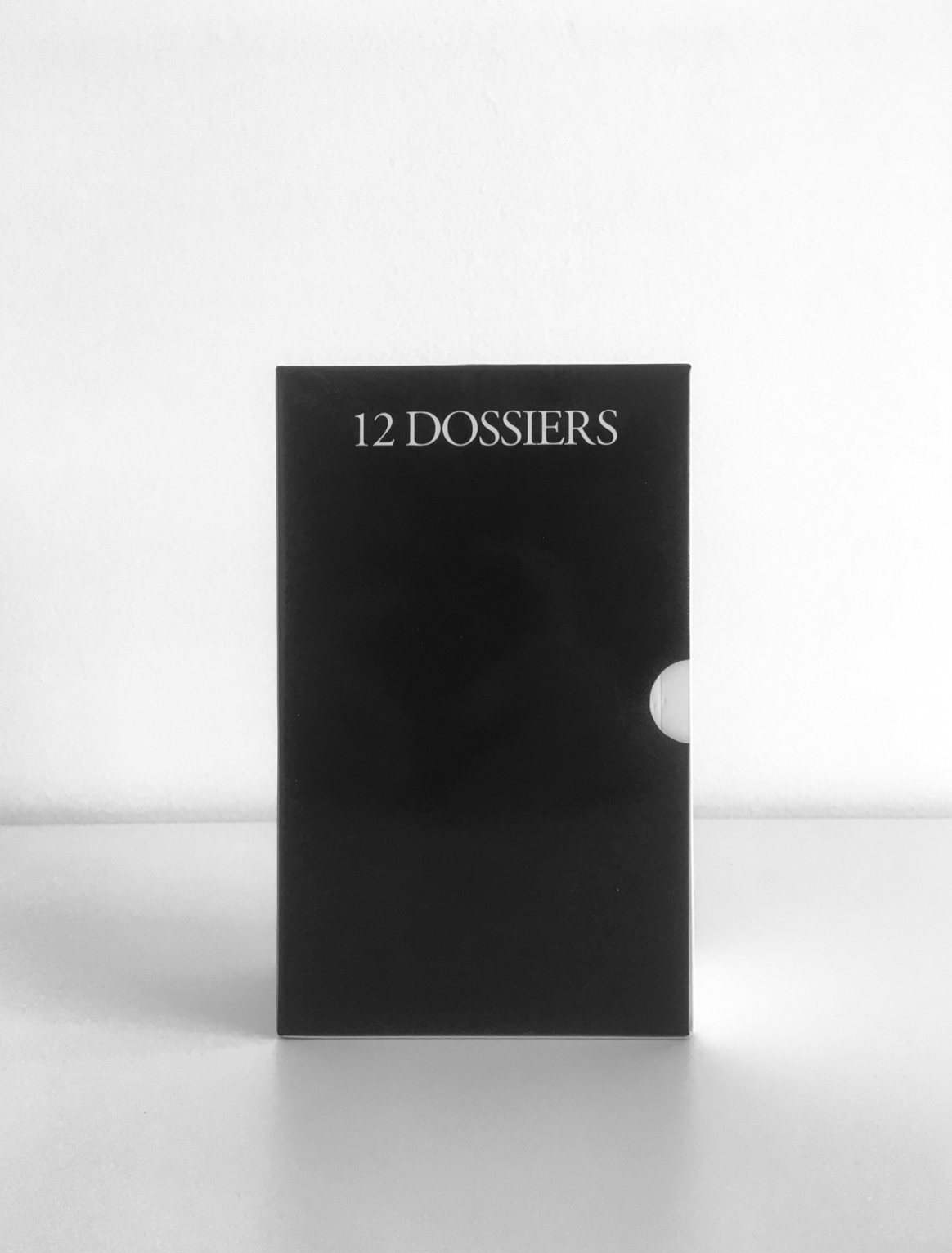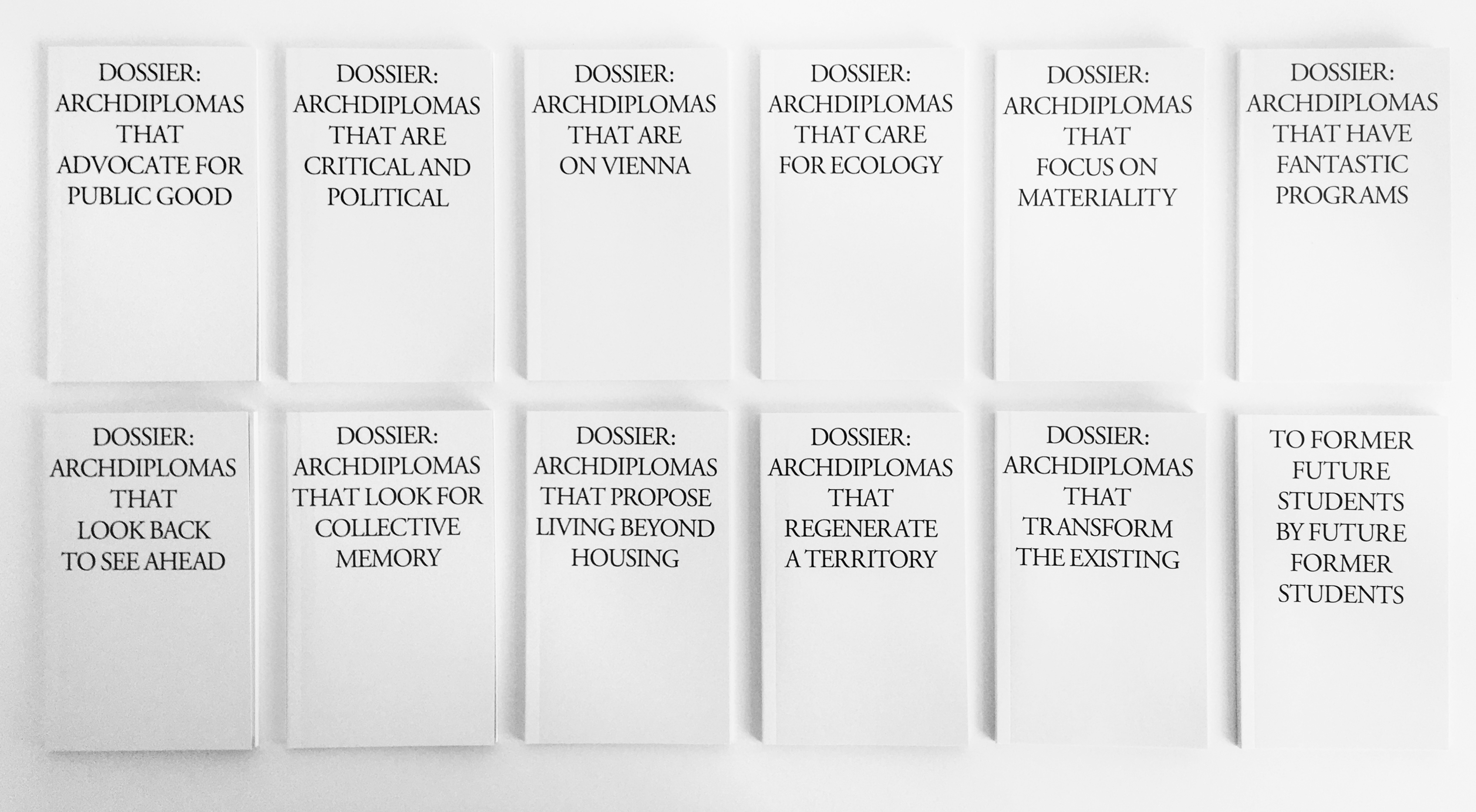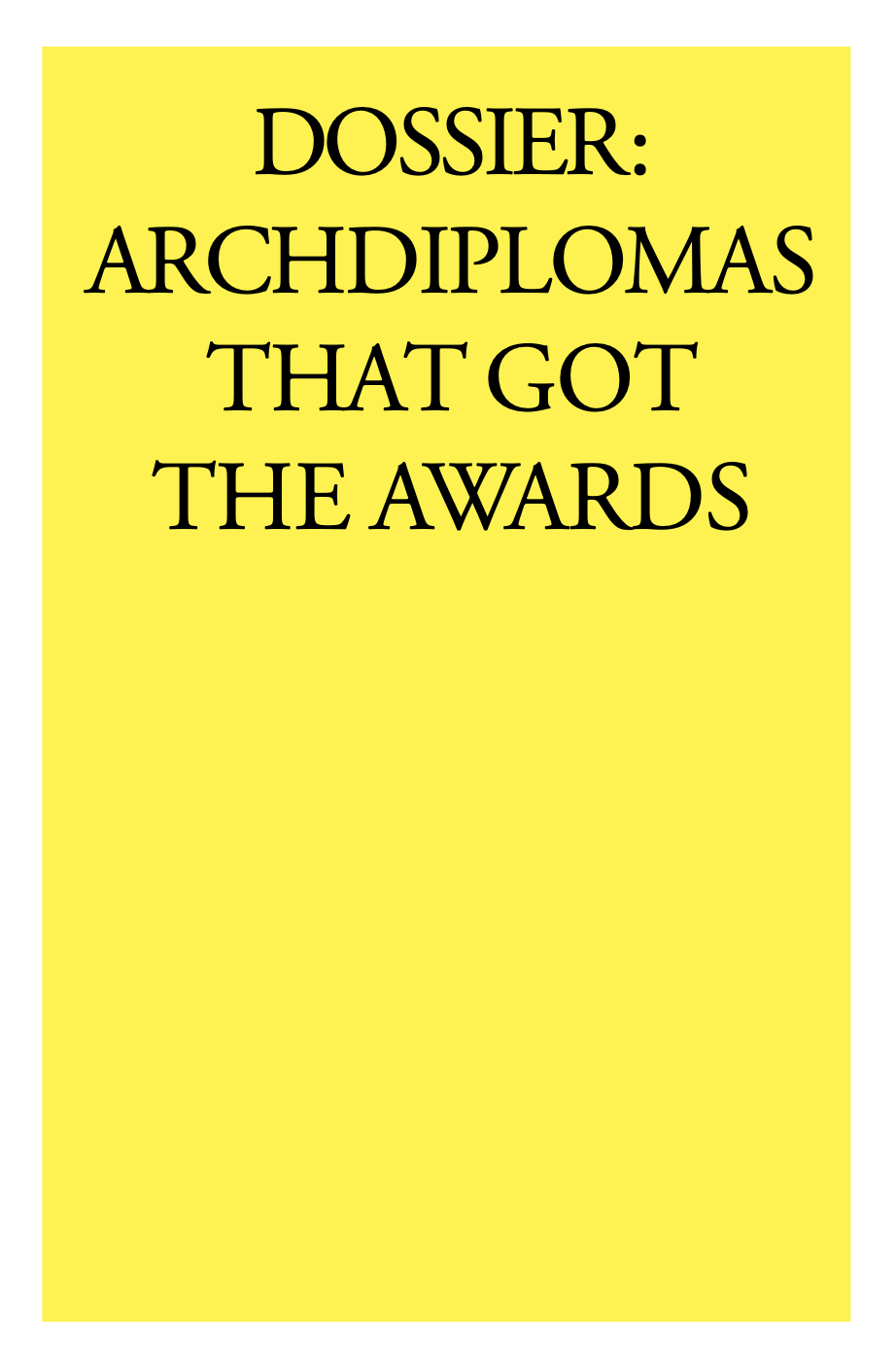 Archdiploma 2021. A Repository of Ideas – Selected Diploma Projects from TU Wien. Archdiploma offers a sampling of some 90 projects produced in the Faculty for Architecture and Planning at the Vienna University of Technology from 2019 to 2021. As students usually define the subject of their own project, the work presented here provides a portrait of the emerging generation of architects, giving an insight into their hopes and wishes as well as their criticisms of contemporary society.
The individual diploma projects are collected in 12 dossiers that focus on different themes while deliberately avoiding any clear categorisation or fixed order. In the spirit of Borges's 'Chinese encyclopaedia', the themes are not intended to supplement one another, but follow different – indeed, sometimes contradictory – kinds of logic. The system always remains incomplete, it can always be extended in different directions, and can never be universally applied.
Essays, short statements and interviews with international experts introduce and frame the topic of each dossier, juxtaposing the diploma projects with fragments of current discourses that are unfolding outside the microcosm of TU Wien.
Acknowledgments
Archdiploma 2021 Graduates
Osama Almughanni, Theresa Amesberger, Andreas Arndt,
Miriam Bachmann, Vera Baltzarek, Lukas Bayer, Sarah
Beyer, Maximilian Birschkus, Susanna Böcherer, Claudia
Katharina Brenner, Kemal Cansiz, Diana Contiu, Bernadett
Csenteri, Pieter De Cuyper, Rafael Essl, Caroline Faber,
Moritz Faustmann, Jonathan Fetka, Wolfgang Fischer, Viktoria
Forstinger, Monika Furtner, Adam Gajdoš, Lisa Gallian, Dimitar
Nikolaev Gamizov, Roswitha Goy, Kristina Grausam, Michael
Heiderer, David Heindl, Niklas Heiss, Katharina Hentsch,
Lenith Bibiana Hernandez, Josephine Herrmann, Noémie
Hitz, Jakob Hofbauer, Victoria Hofmann, Julius Holländer,
Chun-Ning Huang, Tin Jelavić, Nikola Joksimović, Leonhard
Kalab, Sotir Kaloudin, Aurelia Kammerhofer, Theresa Knosp,
Klaus Kodydek, Eva Kodžoman, Anastasia Koupani, Cristina
Krois, Miriam Kühler, Sarah Kusché, Lorna Manjana Langner,
Elisabeth Lazar, Tobias Lieb, Kristina Marie Lilie, Martin
Linkeseder, Clara Linsmeier, Daniel Löschenbrand, Tina
Magerling, Julia Maretzki, Daniela Marková, Mirjam Masoner,
Ivan Matas, Andras Mate, Julia Menz, Felix Müller-Hartburg,
Maximilian Müller, Basilis Neururer, Victoria Patzl, Victoria
Pichler, Jasmin Plaikner, Vlad Popa, Florian Radner, Jakob
Reider, Theresa Reiter, Sigrid Ronacher, Denise Roth, Marie-
Kristin Schamboeck, Lena Schartmüller, Mario Scheinecker,
Antonia Schneider, Martin Schönfelder, Lorenz Seidl, Thomas
Sommerauer, Mirna Šoštar, Dominik Stangl, Christian Szalay,
Julia Tamm, Juraj Tesák, Sophia Thoma, Matthias Tischler,
Tanja Vučenović, Lukas Wieser, Lena Wucherpfennig,
Nina Zawosta
Awards Jury
Lorenza Baroncelli, Verena von Beckerath, Anne Femmer,
Angelika Fitz, Jan Liesegang, Pier Paolo Tamburelli
Az W
Angelika Fitz, Karin Lux, Katharina Ritter
Authors
Thomas Auer, Lorenza Baroncelli, Verena von Beckerath,
Massimo Cacciari, Adam Caruso, Hermann Czech, Anne
Femmer, Angelika Fitz, Wolfgang Kos, Elke Krasny, Christian
Kravagna, Bruno Latour, Jan Liesegang, Anh-Linh Ngo,
Katharina Mischer, Florian Nagler, Maik Novotny, Zara Pfeifer,
Astrid Rössler, Rudolf Scheuvens, Tatjana Schneider, Angelika
Schnell, Julian Schubert, Paul Sebesta, Elisa Silva, Leonard
Streich, Martin Strele, Pier Paolo Tamburelli, Thomas Traxler,
Ellis Woodman; The image captions were written by the
curatorial team.
Publisher
Dean's Office of the Faculty of Architecture and Planning
TU Wien
Rudolf Scheuvens, Dean
ar.tuwien.ac.at
Implementation
Institute of Architecture and Design
www.architektur-entwerfen.tuwien.ac.at
Editors and Curators
Lorenzo De Chiffre
Laura Frediani
Tina Gregoric
Eldar Hajdarević
Noémie Hitz
Wilfried Kuehn
Eva Mair
Ines Nizić
Michael Obrist
Alexandra Scheibl
Something Fantastic
Exhibition Design, Graphic Design and Website Design
Something Fantastic Art Department
Editing, Translation and Proofreading
Pamela Johnston
Print
K-Print
Publishing House
Sonderzahl Verlag
ISBN 978-3-85449-594-9
Watch Symposium